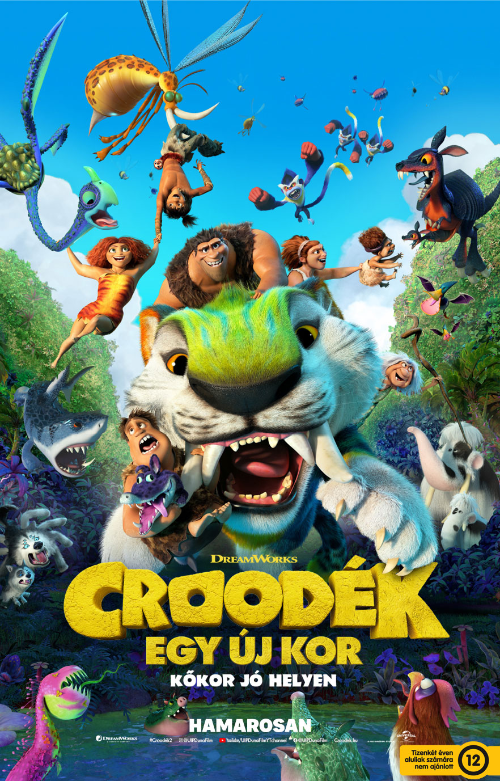 The Croods: A New Age
family, animation (12)
Original Title:
The Croods: A New Age
Directed by:
Joel Crawford
Starring:
Ryan Reynolds, Peter Dinklage, Emma Stone, Nicolas Cage, Cloris Leachman
Running time:
1 hour 36 min.
---
Brief description
The Croods have survived their fair share of dangers and disasters, from fanged prehistoric beasts to watching their daughter get heart eyes over a new boyfriend. But now they face something that will shake their pack to its core and make them reconsider everything they hold true: another family. The Croods need a new place to live. So, the first prehistoric family sets off into the world in search of a safer place to call home. When they discover an idyllic walled-in paradise that meets all their needs, they think their problems are solved … except for one thing. Another family already lives there: the Bettermans. The Bettermans (emphasis on the "better")—with their elaborate tree house, amazing inventions and irrigated acres of fresh produce—are a couple of steps above the Croods on the evolutionary ladder. When they take the Croods in as the world's first houseguests, it isn't long before tensions reach a breaking point. Just when all seems lost, a new threat will propel both families on an epic adventure outside the safety of the wall, one that will force them to embrace their differences, draw strength from each other and forge a future together. The Croods 2: A New Age features the voice talent of returning stars Nicolas Cage as Grug Crood, Catherine Keener as Ugga Crood, Emma Stone as their daughter, Eep; Ryan Reynolds as Eep's boyfriend, Guy; Clark Duke (Hot Tub Time Machine) as Thunk and Cloris Leachman as Gran. They're joined by new stars Peter Dinklage (HBO's Game of Thrones) as Phil Betterman, Leslie Mann (Blockers) as Hope Betterman, and Kelly Marie Tran (Star Wars: Episode VIII-The Last Jedi) as their daughter, Dawn. The film is directed by Joel Crawford, who has worked on multiple DreamWorks Animation films, including Trolls and the Kung Fu Panda franchise, and is produced by Mark Swift (Captain Underpants: The First Epic Movie, Madagascar 3: Europe's Most Wanted).
Booking
10:00

12:00

14:00

16:00

18:00

20:00

Monday

July 26

Tuesday

July 27

Wednesday

July 28

Thursday

July 29

Friday

July 30

Saturday

July 31

Sunday

August 01

Monday

August 02

Tuesday

August 03

Wednesday

August 04
Notation
---
F
|
Original languages with Hungarian subtitles
HFR 3D
|
HFR resolution 3D format film
HFR 3D OV
|
HFR resolution 3D format film with original languages.
KON
|
Concert film, concert with a ticket price.
MM
|
2D film. Cinema marathon on a ticket price
MM 3D
|
3D film. Cinema marathon on a ticket price
E
|
Indigenous language lecture.