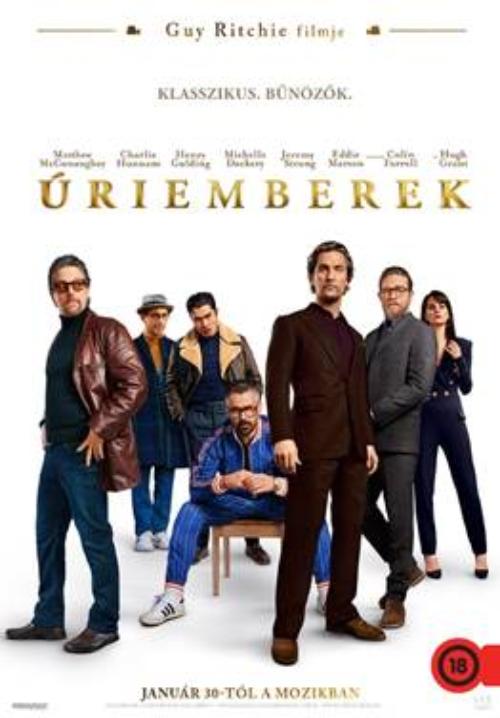 Úriemberek
(18)
Original Title:
The Gentlemen
Starring:
Jeremy Strong, Charlie Hunnam, Lyne Renee, Michelle Dockery, Matthew McConaughey
Running time:
1 hour 53 min.
---
Brief description
Amikor híre megy, hogy az amerikai drogkereskedő, Mickey Pearson (Matthew McConaughey) túl akar adni szuperjövedelmező londoni marihuána birodalmán az egész alvilág felbolydul. Rengeteg lóvé forog kockán, nem is csoda, hogy a gengszterek között kirobban a harc. Bérgyilkosok, kisstílű bűnözők, nagypályások, dílerek, mindenféle kétes alakok bukkannak fel a meggazdagodás reményében. A helyzet kezd igen csak eldurvulni: egyre több hulla potyog, egyre több fegyver kerül terítékre, ám azt mégis nehéz lenne megjósolni, hogy végül kinek a kezében landol a csinos drogbiznisz. Guy Ritchie, A Ravasz, az Agy és két füstölgő puskacső, a Blöff, a Sherlock Holmes-filmek rendezője a mozirajongók nagy örömére visszatér a gyökereihez, és a stílushoz, ami annyira jól áll neki, és a színészeinek. A szereplőgárda most is zseniális: Matthew McConaughey, Hugh Grant, Charlie Hunnam, Colin Farrell, Michelle Dockery, Henry Golding.
Booking
| | 10:00 | 12:00 | 14:00 | 16:00 | 18:00 | 20:00 |
| --- | --- | --- | --- | --- | --- | --- |
Notation
---
F
|
Original languages with Hungarian subtitles
HFR 3D
|
HFR resolution 3D format film
HFR 3D OV
|
HFR resolution 3D format film with original languages.
KON
|
Concert film, concert with a ticket price.
MM
|
2D film. Cinema marathon on a ticket price
MM 3D
|
3D film. Cinema marathon on a ticket price
E
|
Indigenous language lecture.